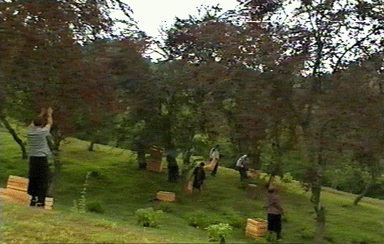 The company "TREST "B" S.A." was founded in 1999 especially for implementation of idea of an industrial production of NATURAL, NON-POLLUTING PRODUCTS OF THE BEST QUALITY (PREMIUM), before existing only in know-how of home preservation.
Tatiana Vedeneeva - a well-known Russian presenter and film actress is the author of the idea and the project itself. The first products, whi˝h the company presented on the market were the famous Georgian sauces of Tkemahly and of Sazhebely, created on the ancient cooking formulas, precisely abiding traditions of their home cooking.
It was organized a sister company in Tbilisi, Georgia at the beginning of 2000 year to collect fruits and grasses, and also for haul of a main component of sauces - wild "Tkemahly" drains, rising in mountainous regions of Caucasus.
March 16, 2000 - in the south of Bulgaria in Aitos the industrial line on production of sauces was launched.
The East Europe sister company is opened in Moscow, Russia, and the trade- distributorship company "Trest "B"" - East Europe, Ltd. " is registered. Its primary goal is the organization of product direct merchandizing and formation of quality client relationship with commercial facilities " of an European type " in Russia.
Pursuant to the marketing program, Russia and countries of former USSR were determined as the main market for sauces of the company. Accordingly for the company was not charged to nest large money in advertising of the new product.
To the end of 2000 the company already delivered their products in the largest Moscow networks of supermarkets. " The Seventh Continent ", "Intersection", ""BIN", ""RAMSTOR", ""Metropolis" etc. Also in a lot of Russia regions.
Alongside with it the sauces of the company are presented in such known and popular Moscow restaurants, as: "Nostalgia", "Royal Imperial", "Uzbekistan", "Oblomov", "Barrel", "Diplomatic hunting club" etc.
Due to its highest quality the sauces of our company the same first year of its appearance in the market have received wide recognition among customers.
After we were convinced of steady demand for our products, the company began activity on organization of own manufacturing base: a complete cycle, from production and processing of own raw up to the issue of finished products. For this purpose in Bulgaria the subsidiary company "TREST "B" Operation" was created.
In November the control packet of shares of the company AD "Frigoplod" was acquired. On the basis of this company, the supplementary one for sorting both storage of fruit and vegetables "TREST "B" DISTRIBUTION" was created due to its near location to the sea, railway and plant on production of our sauces.


The company "TREST "B"" successfully cooperates with:
- "Amcor White Cap Deutschland" (Germany)- a European well-known lid producer.
- "Sterilton S.R.L."(Italy) - the supplier of natural raw.
- "DEPOT W.P.F. Advertising" (Russia) - Company-designer of a label and packaging of sauces of the TREST "B".